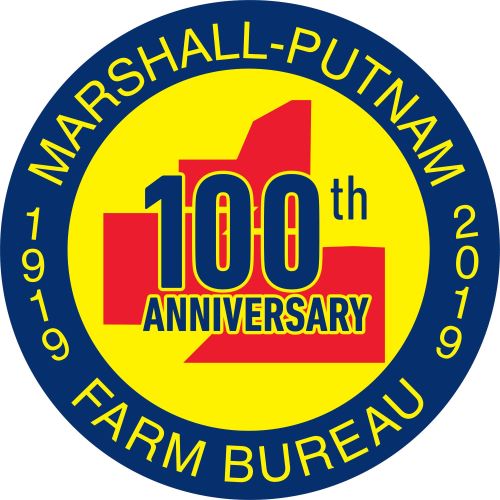 Marshall-Putnam Farm Bureau Hours:
Monday-Friday 8:00 am - 4:30 pm. Closed Noon - 1:00 pm for lunch.
The MPFB Building will be closed on Thursday and Friday, November 23 and 24
for the Thanksgiving holiday.
Welcome to the Marshall-Putnam Farm Bureau® website!
We hope that you will find our website helpful, and if we can assist in any way,
please contact us at the office. We are glad you stopped by today!
Marshall-Putnam Farm Bureau
509 Front Street, Suite 1, Henry, IL 61537
mpfb@mchsi.com
Phone: 309-364-2501
Marshall-Putnam Farm Bureau News
2023 Marshall-Putnam Plat Books are here!
The 2023 Marshall-Putnam Plat Books are here! The cost is $35.00 each and they are available at the MPFB Office, MP SWCD Office, Marshall County Courthouse and the Putnam County Courthouse. If you would like one shipped, please send an additional $5.00 to the Marshall-Putnam Farm Bureau office. Our address is listed above.
MP Farm Bureau receives awards at IAA Annual Meeting
At the IAA Annual Meeting, Marshall-Putnam Farm Bureau was recognized as an Illinois Farm Bureau "County Activities of Excellence" award winner, receiving awards in Engagement & Outreach and Farm Income & Development Multi-County.
Marshall-Putnam Farm Bureau also received the Illinois Farm Bureau New Horizon Award as a 2022 Multi County Winner with Bureau and Stark County Farm Bureaus. The IFB New Horizon Award recognizes new and innovative programs that follow the priorities set by the Illinois Farm Bureau Board of Directors.
Save on CAT equipment with Farm Bureau membership
Eligible Illinois Farm Bureau members can save up to $5,000 on the purchase or lease of eligible CAT equipment. Read more.
Farm Family Resource Initiative offers new helpline
A new helpline (1-833-FARM-SOS) will connect farmers to health professionals and services through the Farm Family Resource Initiative. Read more.
Henry Bridge (IL 18) Project
As many of you know, the Henry Bridge that crosses the Illinois River is set to be replaced. For the most up to date information about the project, please visit www.IL18RiverBridgeProject.com
Broadband Installation Projects
Broadband service is a necessity for today's modern farmer. However, if broadband equipment and fiber optic lines are being installed in the area, landowners need to understand their rights. Read more.
Flood Debasement Information
Since the enactment of the farmland assessment law, farmers have had the opportunity to receive a reduced per-acre assessed value on flooded cropland. This was a topic that was discussed at great length a few years ago, but we have had some questions about it recently and we thought it would be good to address it again. Continue reading
Entry Level Driver Training for Trucking
Beginning Feb. 7, 2022, a driver must complete ELDT before applying for or upgrading to a Class A or B CDL or seeking an endorsement for hazardous materials (H), passengers (P), or school buses (S). ELDT regulations are not retroactive and do not apply to individuals with a valid CDL or who obtain an S, P or H endorsement before Feb. 7, 2022. Read more.
Level 1 Commercial Motor Vehicle Inspection
To view a walk-around video of the Illinois State Police vehicle inspection, click here.
2023 UCR registration now open
Registration for the 2023 UCR Registration year opened on October 1, 2022. Fees have been reduced from the 2022 registration period and can be found at plan.ucr.gov.