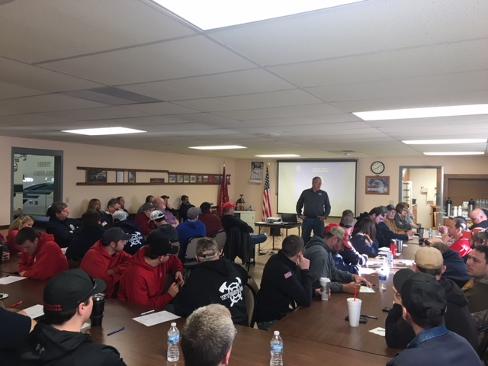 Local emergency personnel attend training
On March 3, 2018, approximately 55 local EMT's and fire personnel attended a "Fires on the Farm" training at the Henry Fire Station. The class provided an overview of farm fires, bringing strategies, tactics, operations and water supply logistics together.
Today rural fire departments can extinguish most farm fires. Emphasizing pre-planning, thinking "beyond your own back yard" and encouraging joint training can have successful outcomes. The class covered response capabilities, strengths and weaknesses as well as considerations for farm fires in buildings, areas involving common farm chemicals, machinery, fields and/or crops. Training was provided by David Newcomb of the Illinois Fire Service Institute.
This program was sponsored by Marshall-Putnam Farm Bureau, Bureau County Farm Bureau, Illinois Farm Bureau and COUNTRY Financial. A special "thank you" to the Henry Fire Department for letting us use their facility and to COUNTRY Financial for providing the refreshments