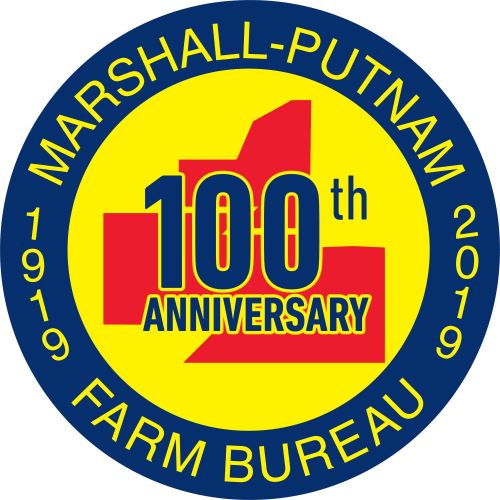 Marshall-Putnam Farm Bureau Hours:
Monday-Friday 9:00 am - 4:00 pm. Closed Noon - 1:00 pm for lunch
We will resume our normal business hours on December 1, 2020.


This office will be closed for Thanksgiving on November 26 & November 27.
Welcome to the Marshall-Putnam Farm Bureau® website!
We hope that you will find our website helpful, and if we can assist in any way,
please contact us at the office. We are glad you stopped by today!
Marshall-Putnam Farm Bureau
509 Front Street, Suite 1, Henry, IL 61537
mpfb@mchsi.com
Phone: 309-364-2501 Fax: 309-364-3658
Member Self Management
Click HERE to manage your Farm Bureau Account online!
Marshall-Putnam Farm Bureau News
Teacher grants now available
Illinois Agriculture in the Classroom is a program coordinated by the Illinois Farm Bureau and partners of the program. Teachers in the Marshall and Putnam school districts (grades Pre-K through 8th) can apply for one of three $150 grants to be awarded by the MP Farm Bureau Foundation to help implement agriculture in their lesson plans. Deadline to apply is November 2, 2020. Click here for the application.
IDOA to offer free recycling program for agrichemical containers
The Illinois Department of Agriculture (IDOA) is encouraging farmers and agrichemical facilities to save their empty agrichemical containers as they will once again be hosting free container recycling days throughout the State. Read more.
CFAP online application portal opens
Sole proprietors and single-member business entities may now apply for the Coronavirus Food Assistance Program (CFAP) through an online portal. Read more.
MP Farm Bureau family recognized in Farm Week
To read the article of Carla and Adam Schaer's expanding pumpkin farm, click here.
Kate Bella awarded Crops for College Scholarship
Kate Bella is a senior at Midland High School and the President of the Midland FFA Chapter and is the daughter of Joe and Laura Bella of Lacon. Kate submitted the following to the paper, "For my future college plans, my goal is to begin by attending a community college where I hope to start my college career studying Pre-Veterinary Medicine in hopes of transferring to the University of Illinois Champaign Urbana, majoring in Veterinary Medicine. I also want to continue my involvement in the Equine Industry and helping to serve the Agriculture Community." Congratulations Kate!
Hannah Meffert Runner Up for Crops for College Scholarship
Hannah is a senior at Midland High School and the Sentinel for the Midland FFA Chapter and is the daughter of Darrel and Carrie Meffert of Sparland. Hannah submitted the following to the paper, "I will be attending Southern Illinois University Edwardsville in the fall. I plan to major in Mechanical Engineering, so that I may be able to design and develop new equipment and technology for the Agriculture Industry." Congratulations Hannah!
Isaac Klein is the Winner of the MPFB Scholarship
Isaac is a senior at Henry-Senachwine High School and is the son of Fred and Mary Jo Klein of Henry. Isaac submitted the following to the paper, "After I graduate from Henry-Senachwine High School, I will be attending Carroll University to become a physical therapist. I will be majoring in Exercise Science and minoring in Healthcare Administration." Congratulations Isaac!
Illinois Waterway consolidated lock closures
The U.S. Army Corps of Engineers has provided information on the river closures. Read more.
Plat book price reduced to $30
The cost of the anniversary edition 2019 plat books for Marshall and Putnam counties has been reduced to $30. This special edition plat book features historical maps from 1911. Books can be purchased at the M-P Farm Bureau office, the Marshall and Putnam County Courthouses, and the Soil & Water Conservation District in Henry.