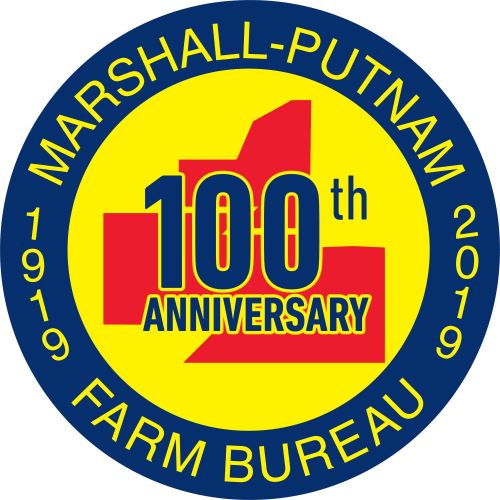 Marshall-Putnam Farm Bureau Hours:
Monday-Friday 8 am - 4:30 pm. Closed Noon - 1 pm for lunch
Welcome to the Marshall-Putnam Farm Bureau® website!
We hope that you will find our website helpful, and if we can assist in any way,
please contact us at the office. We are glad you stopped by today!
Marshall-Putnam Farm Bureau
509 Front Street, Suite 1, Henry, IL 61537
mpfb@mchsi.com
Phone: 309-364-2501 Fax: 309-364-3658
Member Self Management
Click HERE to manage your Farm Bureau Account online!
Marshall-Putnam Farm Bureau News
Teacher Grants Available
The MPFB Foundation is again sponsoring three grants for Marshall and Putnam county teachers. The grant must be submitted by November 12, 2021. To apply, complete the grant application and mail to the office by the deadline.
IAA Foundation offers scholarships
Agriculture students and Illinois Farm Bureau® (IFB) members, spouses and children are eligible to apply for 82 college scholarships offered by the IAA Foundation, Illinois Farm Bureau's charitable arm. The scholarships, ranging from $1,000 to $7,500, will be awarded in total of $159,500 for the 2022-23 school year. Read more.
Farm Family Resource Initiative offers new helpline
A new helpline (1-833-FARM-SOS) will connect farmers to health professionals and services through the Farm Family Resource Initiative. Read more.
Henry Bridge (IL 18) Project
As many of you know, the Henry Bridge that crosses the Illinois River is set to be replaced. The first community meeting was held on Wednesday, August 25. For the most up to date information, please visit www.IL18RiverBridgeProject.com
Lacon Bridge Repairs
Many of you have requested an update on the timing of the repairs to the Lacon Bridge that crosses the Illinois River. We are including that update for you and will be posting updates to our website as we receive them from IDOT. Latest update as of August 26, 2021.
Broadband Installation Projects
Broadband service is a necessity for today's modern farmer. However, if broadband equipment and fiber optic lines are being installed in the area, landowners need to understand their rights. Read more.
Flood Debasement Information
Since the enactment of the farmland assessment law, farmers have had the opportunity to receive a reduced per-acre assessed value on flooded cropland. This was a topic that was discussed at great length a few years ago, but we have had some questions about it in 2021 and we thought it would be good to address it again. Continue reading.
Entry Level Driver Training for Trucking
Beginning Feb. 7, 2022, a driver must complete ELDT before applying for or upgrading to a Class A or B CDL or seeking an endorsement for hazardous materials (H), passengers (P), or school buses (S). ELDT regulations are not retroactive and do not apply to individuals with a valid CDL or who obtain an S, P or H endorsement before Feb. 7, 2022. Read more.
Nutrient Stewardship Field Day a Success
To read the article and view the video, view video
IDOA to offer free recycling program for agrichemical containers
The Illinois Department of Agriculture (IDOA) is encouraging farmers and agrichemical facilities to save their empty agrichemical containers as they will once again be offering free container recycling days throughout the State. Read more.
2021 Crops for College Scholarship Winners Announced
Brandon Collins is the son of Rachel and Tim Collins of Lacon. Brandon will graduate from Midland High School this spring. He plans to attend Michigan Technological University in the fall, majoring in Mechanical Engineering with a minor in Agricultural Environmental Studies.
Nicholas Mattern is the son of Margy and George Mattern of Magnolia. He will graduate from Putnam County High School this spring and plans to attend Illinois Central College in the fall and will be a part of the Diesel Technician Program.
The MPFB Young Leaders are pleased to provide these young men with scholarships to pursue careers in agriculture.
2021 Marshall-Putnam Farm Bureau Scholarship Winner
Congratulations to Ryker Ewing, son of Alyssa and Sam Wier of Lacon. Ryker will graduate from Midland High School this spring. He plans to attend the University of Illinois in the fall, majoring in Agricultural Education.
Level 1 Commercial Motor Vehicle Inspection
To view a walk-around video of the Illinois State Police vehicle inspection, click here.
IDOA Online Certified Grower Training Available
Illinois growers and grower farm operators who transport or apply anhydrous ammonia, or otherwise maintain anhydrous ammonia equipment, are now required by state regulation (8 IAC 215) to complete certified grower training. Growers and grower farm operators have until April 1, 2022 to become certified. Read more.
Plat book price reduced to $25
The cost of the anniversary edition 2019 plat books for Marshall and Putnam counties has been reduced to $25. This special edition plat book features historical maps from 1911. Books can be purchased at the Marshall-Putnam Farm Bureau office, the Marshall and Putnam county courthouses, and the Soil and Water Conservation District office in Henry, Illinois.
2022 UCR registration now open
Registration for the 2021 UCR Registration year opened on October 1, 2021. Fees remained the same as they were for 2021 and can be found at plan.ucr.gov. Note: Registration for the 2020 registration year (except for state audit purposes) ended on September 20, 2021, at 5:00 p.m. EDT.
CFAP online application portal opens
Sole proprietors and single-member business entities may now apply for the Coronavirus Food Assistance Program (CFAP) through an online portal. Read more.
MP Farm Bureau family recognized in Farm Week
To read the article of Carla and Adam Schaer's expanding pumpkin farm, click here.
Illinois Waterway consolidated lock closures
The U.S. Army Corps of Engineers has provided information on the river closures. Read more.