Welcome to the Marshall-Putnam Farm Bureau® website!
We hope that you will find our website helpful, and if we can assist in any way,
please contact us at the office. We are glad you stopped by today!
Marshall-Putnam Farm Bureau
509 Front Street, Suite 1, Henry, IL 61537
mpfb@mchsi.com
Phone: 309-364-2501
Fax: 309-364-3658
We will be closed for business on Tuesday, July 4th. Happy Independence Day!
Member Self Management
Click HERE to manage your Farm Bureau Account online!
Marshall-Putnam Farm Bureau News
Midland schools enjoy chemistry in action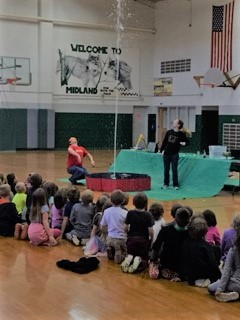 For part of a school day in May, students and teachers from Midland Elementary and Midland Middle School had a visit from the Bradley University Chemistry Club Demo Crew led by Professor Dean Campbell. Students seemed to have a lot of fun seeing chemistry in action and learning how science can be an exciting field of study! The visit was sponsored by the Marshall-Putnam Farm Bureau Foundation.
Marshall-Putnam Fair coming July 12-16
Preparations are in full-swing for the 2017 Marshall Putnam fair. Bring your family out and enjoy the many family-oriented activities happening at this year's Big Top-A-Fair. For a list of some of the family and/or youth activities, click here.
"Crops for College" scholarship awarded
The Marshall-Putnam Young Leaders group has awarded this year's scholarship to Clayton Blunier, a senior at Midland High School and the son of Darin and Keri Sue Blunier. Read more.
M-P Farm Bureau scholarship awarded
The recipient of the M-P Farm Bureau scholarship is Jake Kennedy, a senior at Henry Senachwine High School and the son of Sean and Tina Kennedy. Read more.
Defensive driving course offered
The Marshall-Putnam Farm Bureau and COUNTRY Financial are hosting a Defensive Driving Course on June 14 & 15. Read more.
Livestock farm features tree buffers around hog building
The Illinois Tree Buffer Initiative is preparing for another year of working with farmers to plant trees around livestock buildings. Read more.
We Need You - Join FB ACT!
We want our members' voices heard in Springfield and Washington D.C. Join the Marshall-Putnam Farm Bureau in speaking up, by joining FB ACT! Read more.
Farm labor liability seminar held February 16
Marshall-Putnam Farm Bureau teamed up with Bureau, Henry and Stark County Farm Bureaus to provide a farm labor liability program which was held at Birkey's Farm Store in Henry. A special thanks to COUNTRY Financial for their generous grant to make this event possible. Read more.
Illinois Farm Bureau policy decisions recap
At the link, please find a special edition of Farm Bureau in Action. It recaps policy decisions made by the delegate body at the recently-concluded IAA Annual Meeting. Click here to view.
Marshall-Putnam receives AFBF award
The Marshall-Putnam, Stark and Peoria County Farm Bureaus were selected as winners in the American Farm Bureau Federation County Activities of Excellence (CAE) program for their joint program "Barging Ahead for Stronger Economies" tour of Illinois River infrastructure which was held this past summer. Read more.
Commonly asked questions about the IDR changes to farmland assessment
In 2013, the Illinois Department of Revenue introduced legislation that made a fundamental change to how farmland's assessed values are determined. The Illinois Farm Bureau has compiled a list of the commonly asked questions about the change. Read more.
Illinois Farm Bureau celebrates 100 years
The Marshall-Putnam Farm Bureau has a limited number of 100 year history books for sale. If you would like to purchase "A Voice for Illinois Agriculture - The Centennial History of Illinois Farm Bureau", contact the office. The hardcover book is $17.00.
State legislative priority issues for 2017
Members of M-P Farm Bureau have been meeting with legislators to discuss the state legislative priority issues for the 2017 General Assembly session as established by Illinois Farm Bureau.
Resources on Transportation Issues
New trucking regulations have caused a lot of confusion and prompted many calls to the Farm Bureau office. The Illinois Farm Bureau has put together explanatory handouts on the following transportation issues. These handouts answer many of the frequently asked questions and highlight the important information that pertains to farmers. Click here to be routed to these handouts.