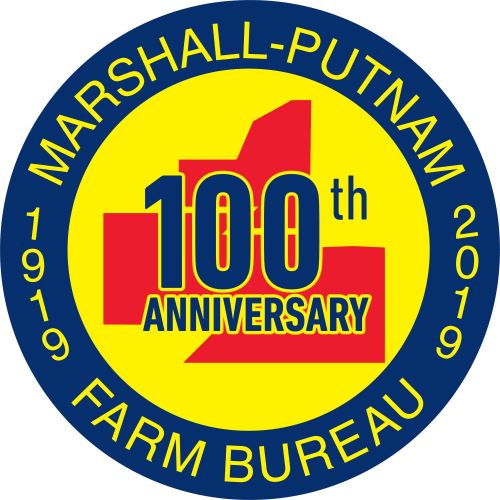 Marshall-Putnam Farm Bureau Hours:
Monday-Friday 9:00 am - 4:00 pm. Closed Noon - 1:00 pm for lunch


Welcome to the Marshall-Putnam Farm Bureau® website!
We hope that you will find our website helpful, and if we can assist in any way,
please contact us at the office. We are glad you stopped by today!
Marshall-Putnam Farm Bureau
509 Front Street, Suite 1, Henry, IL 61537
mpfb@mchsi.com
Phone: 309-364-2501 Fax: 309-364-3658
Member Self Management
Click HERE to manage your Farm Bureau Account online!
Marshall-Putnam Farm Bureau News
2021 Annual Health Fair
SAVE THE DATE! M-P Farm Bureau health fair scheduled for March 16 and March 19. Look for details coming soon to your mailbox.
MP Farm Bureau offers scholarships
Marshall-Putnam Farm Bureau has two scholarships available for a student's freshman year of college. Applications must be submitted online and the deadline to apply is March 15. Read more.
2021 Certified Livestock Manager Online Training
The Illinois Department of Agriculture along with the University of Illinois Extension is hosting the Certified Livestock Manager Online Training and Webinars for 2021. Read more.
IDOT Online Certified Grower Training Available
Illinois growers and grower farm operators who transport or apply anhydrous ammonia, or otherwise maintain anhydrous ammonia equipment, are now required by state regulation (8 IAC 215) to complete certified grower training. Growers and grower farm operators have until April 1, 2022 to become certified. Read more.
Conservation Efforts by Illinois Farmers
Have you noticed our signs on Yankee Lane? Want to find out more about conservation efforts by Illinois Farm Bureau? Click this link for more information. Read more.
Plat book price reduced to $25
The cost of the anniversary edition 2019 plat books for Marshall and Putnam counties has been reduced to $25. This special edition plat book features historical maps from 1911. Books can be purchased at the Marshall-Putnam Farm Bureau office, the Marshall and Putnam county courthouses, and the Soil and Water Conservation District office in Henry, Illinois.
2021 UCR registration now open
Registration for the 2021 UCR Registration year opened on October 1, 2020. Fees remained the same as they were for 2020 and can be found at plan.ucr.gov. Note: Registration for the 2019 registration year (except for state audit purposes) ended on September 20, 2020, at 5:00 p.m. EDT.
New IFB Presidential Memorial Scholarship created
lllinois Farm Bureau's rich history includes a list of former presidents that reads like an honor roll of well-known and well-respected individuals. In recognition of the past presidents who shaped and influenced IFB, the Board of Directors, at the suggestion of the IAA Foundation Board of Trustees, recently voted to create the Illinois Farm Bureau Presidential Memorial Scholarship fund. Read more.
IAA Foundation scholarships available
Agriculture students and Illinois Farm Bureau® (IFB) members, spouses and children are eligible to apply for 77 college scholarships offered by the IAA Foundation, Illinois Farm Bureau's charitable arm. The scholarships, ranging from $1,000 to $7,500, will be awarded in total of $123,000 for the 2021-22 school year. Read more.
IDOA to offer free recycling program for agrichemical containers
The Illinois Department of Agriculture (IDOA) is encouraging farmers and agrichemical facilities to save their empty agrichemical containers as they will once again be hosting free container recycling days throughout the State. Read more.
CFAP online application portal opens
Sole proprietors and single-member business entities may now apply for the Coronavirus Food Assistance Program (CFAP) through an online portal. Read more.
MP Farm Bureau family recognized in Farm Week
To read the article of Carla and Adam Schaer's expanding pumpkin farm, click here.
Illinois Waterway consolidated lock closures
The U.S. Army Corps of Engineers has provided information on the river closures. Read more.